Aeroklas Side Steps make getting in and out of your vehicle easier and safer. Designed to be practical and functional for everyday driving or extended travel periods, Aeroklas Side Steps make accessing your 4x4's cabin or roof-loaded cargo simpler than ever.
Engineered to be lightweight yet durable, Aeroklas Side Steps feature a solid bracketry system and tough glass riber-reinforced polypropylene body that's both rigid and strong. Moulded to ensure a solid foothold every time you use them, each side step is accented with a chrome strip that adds a high-end look to the side of your 4×4.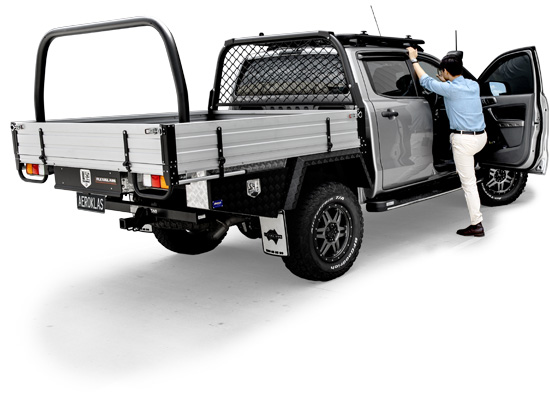 Lightweight glass fiber-reinforced polypropylene construction: Avoid unnecessary added vehicle weight, allowing for more cargo when loading up your 4x4.
Zinc-coated steel mounting brackets: Exceeds OEM test requirements to make sure that the side steps can support your weight during vehicle access.
Working load limit: 100kg without bend, 1 year warranty
Body-mounted bracketry: Mounting side steps to the vehicle body (instead of the chassis) makes installation quicker and easier.
Ford Ranger PX I,II & III: 319138300002
Mazda BT-50 06/2015 on: 319138300002
Nissan Navara NP300 06/2015 on: 319121300002
Toyota Hilux 09/2015 on: 319130300001
Isuzu D-Max: 319113300005
Volkswagen Amarok 02/2011 on: 319148300002